News


3 news items


We're Turning Water into an Eco-Friendly Disinfectant!
11/01/2022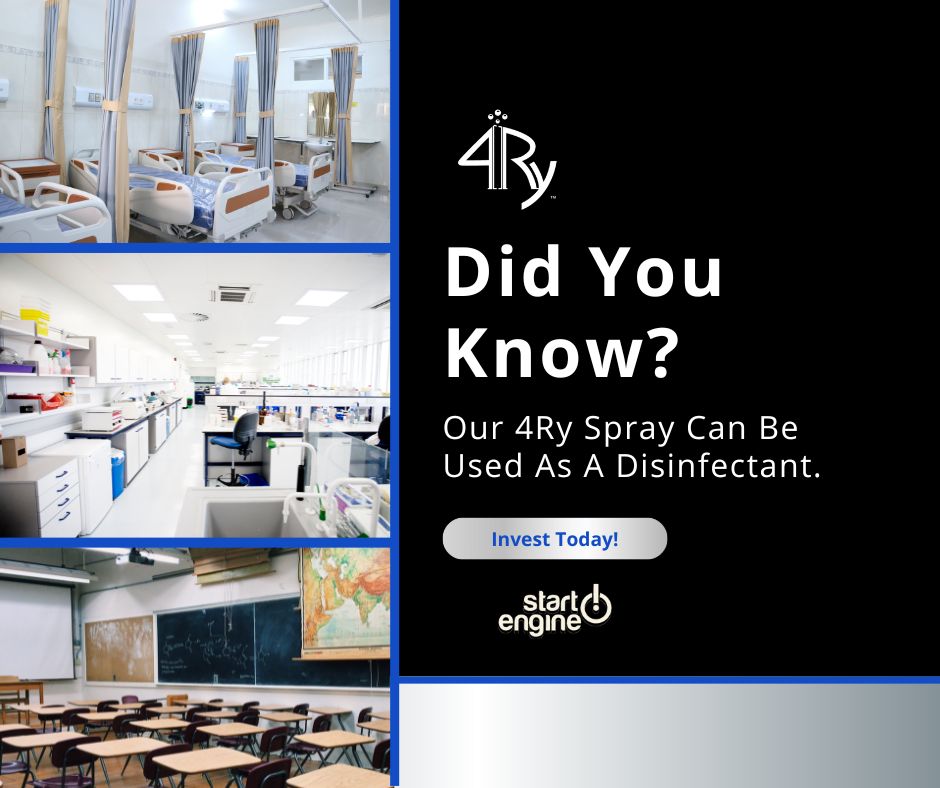 Across a wide range of applications and industries, 4Ry's innovative technology can make spraying more efficient and economical, less wasteful, and safer for humans, animals, plants, and the environment. For example, our spray triode atomizer solution can be of great use to hospitals, labs, schools, etc!
Independent third-party testing has verified that 4Ry's charge-injected distilled water can kill bacteria. Further tests may establish that it can kill a range of microorganisms. That would turn water into an eco-friendly disinfectant!
Thank-You For Your Time!
Our equity crowdfunding campaign is currently active on StartEngine. Since the start of our campaign, we have raised $100K+. Investors find 4Ry an attractive investment due to our drive to reduce the environmental impact of a huge variety of spray applications.
Our ChIPS (Charge-Injected Precision Spraying) technology is working to achieve that goal.


4Ry Successfully Demonstrates a Form-Oil Prototype at Oldcastle Infrastructure Plant
09/22/2022
Oldcastle Infrastructure, the largest U.S. precast concrete manufacturer, contacted 4Ry concerning a spraying problem. To make precast concrete objects, concrete is poured into steel forms. Before the concrete is poured, the form is sprayed with form oil to facilitate the object's separation from the form after the concrete has cured.

The spray technology the company was using left form oil pools on the ground around the form. These pools are a safety risk, an environmental hazard, and require costly remediation and disposal. Oldcastle wanted to solve this problem, but the company also wanted to improve spray quality and economize on form oil usage. Although 4Ry didn't have a form-oil sprayer at the time, Oldcastle came to us because 4Ry's patented technology, Charge Injected Precision Spraying™, or ChIPS™, presented a number of potential benefits.

With ChIPS, negatively charged droplets repel each other, providing the spray's propulsion towards the grounded form. The droplets are attracted to the form, on the same principle that lightning goes to the earth, the ultimate ground. The spray wraps around the form with a smooth, even coat that uses less oil than traditional spraying. It also coats any indentations or other irregular surfaces. There is a minimum of drift and overspray, reducing inhalation risks and environmental impact.

4Ry CEO Robert Gore and Vice President Mark Akimoto recently demonstrated two form-oil sprayer prototypes at Oldcastle's plant in Chandler, Arizona.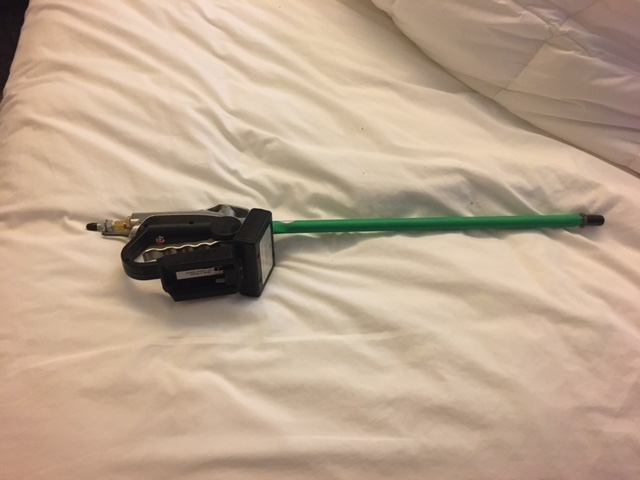 Form-Oil Sprayer Prototype
Oldcastle managers Cody Westcott, Herman Hopper, and Ryne Eich witnessed the demonstration on a large form the company uses to make concrete tunnels. The outer and inner part of the form were separated by an overhead crane.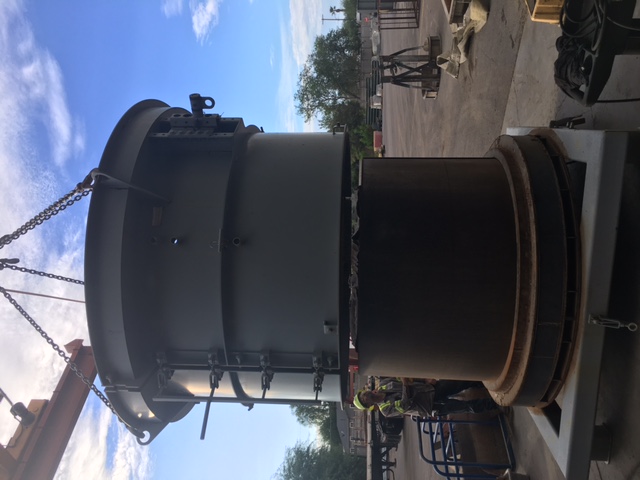 Precast Form for Concrete Tunnels
It is apparent from the picture that the inner part of the form was very rusty. It had been left outside for some time. Standing about three feet from the form, Gore and Akimoto took turns coating the inner form with one of the prototype sprayers. The spray, consisting of 60 to 80-micron droplets, was barely visible in the bright Arizona sunlight, but it was obviously wetting the form surface. Initially it appeared that the spray was only spotting, not covering the entire surface, but the spots spread out for a thorough, even coat. The spray itself was about six feet wide, and it bent with the curved contour of the form. With one sprayer, the inner form was coated in less than two minutes.

Next, Gore and Akimoto sprayed the inner surface of the outer form. Compounding the difficulty was a large, grid-like wooden and metal covering over the top of the form. Working around that covering, they coated the inside of the outer form with a top-to-bottom coat of the same quality as that applied to the inner form, even though they could only spray from above the form.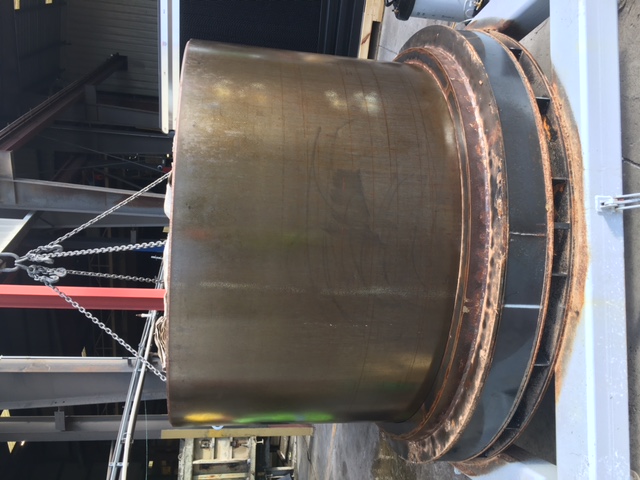 Inner Part of Concrete tunnel Form After 4Ry Prototype Spraying
Oldcastle's managers were impressed with the sprayer's performance. Most importantly from their standpoint, there was no pool of form oil on the ground around the two parts of tunnel form, and there was no streaking or dribbling that would mar the surface of the concrete tunnel produced.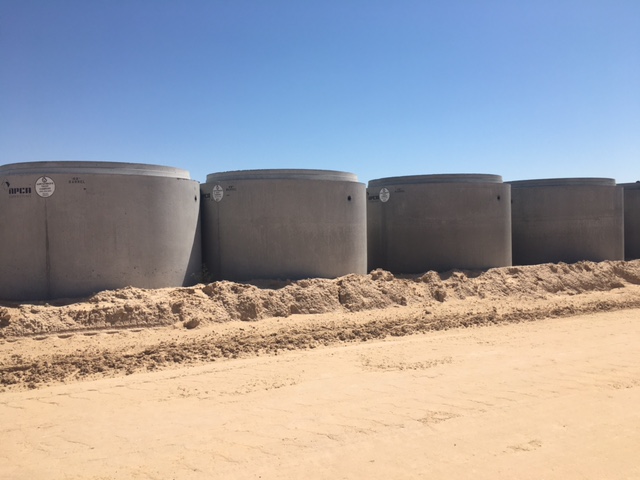 Concrete Tunnel Components
In discussions after the demonstration, the managers offered to assist 4Ry in the development of a commercial version of the form-oil sprayer. They said we were welcome to return to Chandler to test new prototypes. If the commercial version meets expectations and Chandler starts using it, they said there was a strong possibility that it would be used in all of Oldcastle's North American plants. Oldcastle is a subsidiary of CRH, a $29 billion (revenue) Irish building products multinational that may also be a market for 4Ry's form oil sprayer.

The Oldcastle demonstration is important for several reasons. We can advertise how Charge Injected Precision Spraying™, or ChIPS™, is different and better than any other type of spraying, but you almost have to see it to believe it. The Oldcastle managers didn't have to see it very long before they were convinced. Our sprayer will be right at home in the precast concrete industry, but there are many other industries that require precision spraying applications as well. This demonstration is an important step from the laboratory to the marketplace, with plenty of other products incorporating Dr. Kelly's discoveries and technologies on the way. It moves 4Ry that much closer to being a profit-driven business. Those interested in a potential investment in 4Ry should check out our StartEngine Campaign Page.


4Ry and HVM Technology Team Up to Develop Powerful, Compact Sprayer Controller
09/06/2022
The controller is the brains of 4Ry's Charge Injected Precision Spraying™, or ChIPS™. It controls the current with which the Spray Triode Atomizer's™ cold cathode emitter charge-injects the fluid before it leaves the Atomizer. For an optimal spray that charge must be varied. The details of that variability are a trade secret.

FouRy has been working with HVM Technology of New Braunfels, Texas for almost three years to develop a compact controller. HVM is one of the world's leading designers and manufacturers of miniature electronic components. When we first started, we thought it would be relatively simple. It turned out to be anything but simple. Essentially, the controller has to continuously adjust charge in response to fluctuating charge densities and fluid conditions within millisecond time frames. We eventually solved the technical challenges, but not without a lot of false starts and frustration.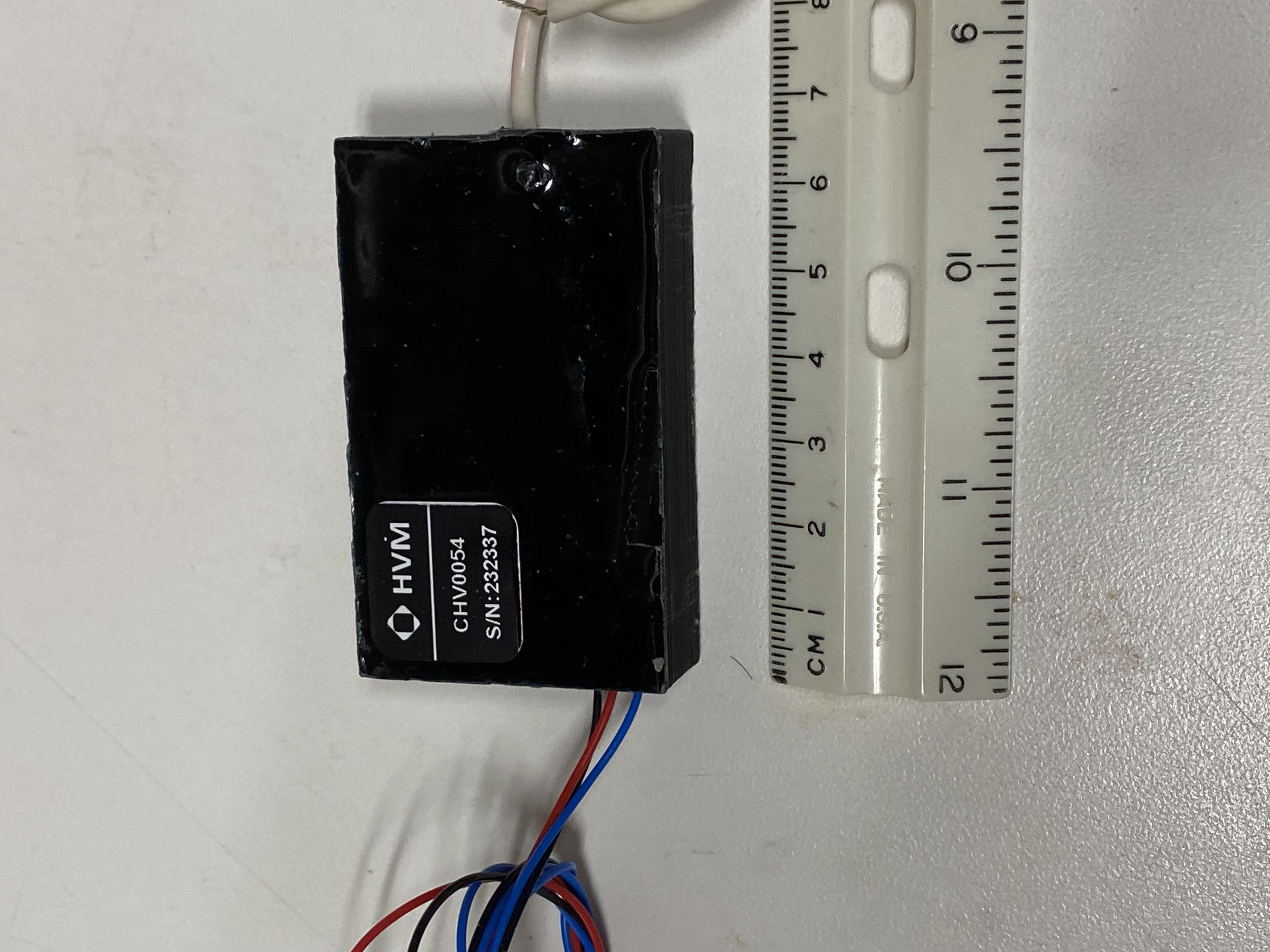 Controller
The controller is small, 64mm x 39mm x 16mm, about two-thirds the size of a deck of playing cards, but extraordinarily powerful. HVM has delivered ten for prototype sprayers and we will be ordering many more. The controller will be incorporated into spray applications where conditions are not static and stable. It is already part of two portable form-oil sprayers we recently delivered to Oldcastle Infrastructure, the largest U..S. precast concrete manufacturer.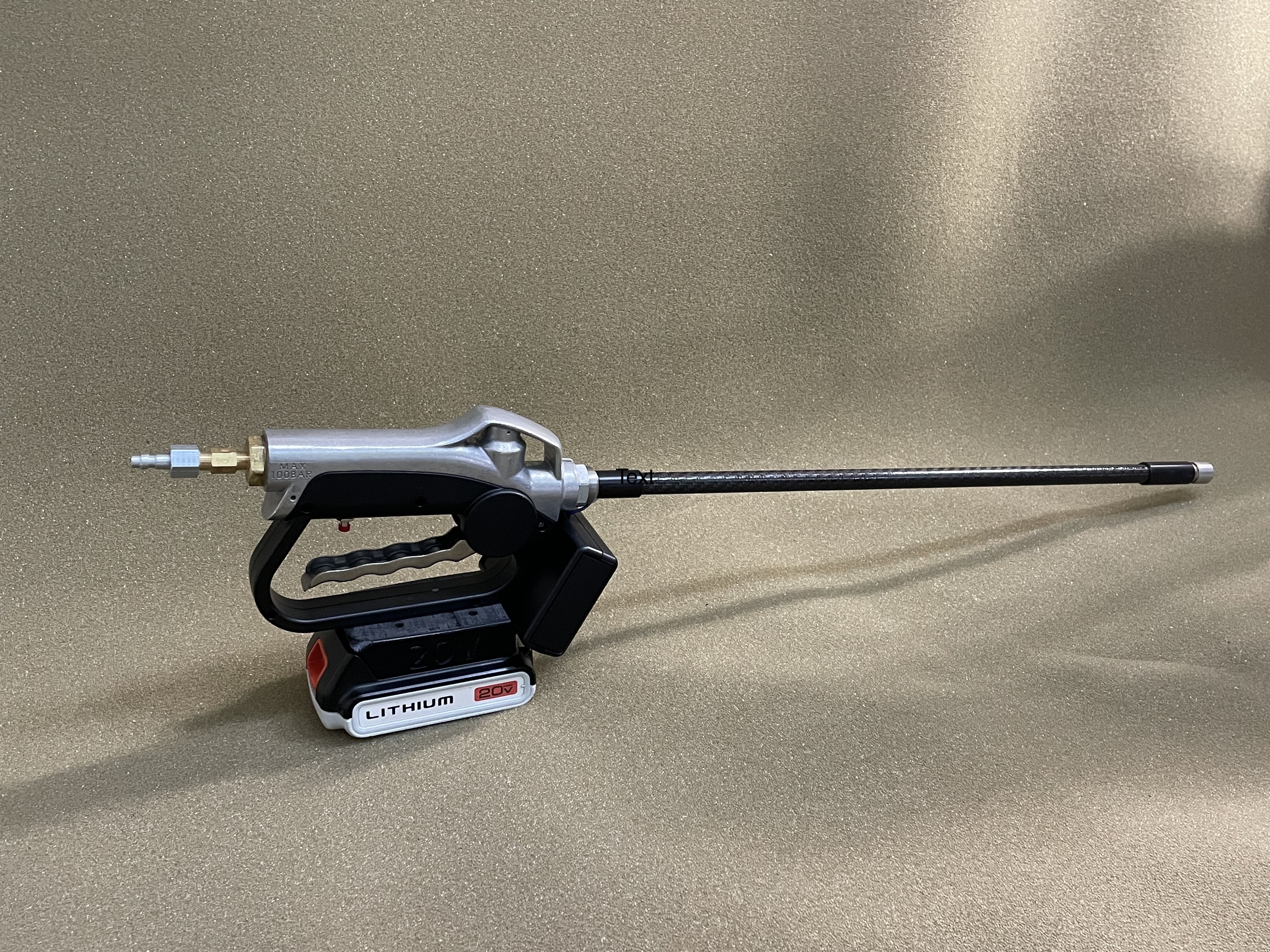 The controller is inside the black box in front of the handle
It will also be a component of ground-based agricultural sprayer prototypes we'll be delivering to Raven Industries of Sioux Falls, South Dakota, and drone-based sprayer prototypes we'll be delivering to EAVision Technologies of Pleasanton, California, and Rantizo of Iowa City, Iowa. Enthusiastic about the potential of charge-injected spraying, these companies have patiently awaited delivery as we wrestled with our controller problems. Now that we've solved them, they will be providing invaluable field-performance data and feedback as we take the next step, from prototypes to commercial models.
Investors interested in 4Ry should please refer to our Campaign Page with the StartEngine equity crowdfunding platform. Invest in 4Ry today!